I am passing along a link to a great podcast called "I Smiled Yesterday". Here's what the original poster said:
"
I Smiled Yesterday is back! This time abetted by like-minded podcasters Ben from the excellent fire escape talking blog and your own Kid Frostbite, ISY vs FET vs SLR hits all the usual post-punk, soul, garage and indie-pop targets squarely.
"
You can find it
here
.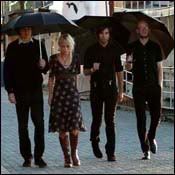 While I am re-posting band news, I may as well mention one of my favorites, Shout Out Louds, has spoken up. Here's what they said (I am not sure how to link to a myspace blog entry):
"Ohoy!
Ohoy friends and fiends,
Just a few words to let you all know that so far we have all survived our time apart!
We are now back in our practice space, a little bit fatter, a little bit braver, and very eager to each bring the results of his or her own musical fast to the all we can eat buffet table. In all honesty, when we all gathered in there for the first time in months of being everywhere but there, talking about anything but it, and doing many things but that, we found ourselves a little rusty and quite unable to express ourselves without ending up in rather upsetting discussions concerning matters such as how to distinguish Carole King from Chicago, beer from supper, and boogie woogie from John Cale. A fairly simple task in essence, a strangely excruciating one in reality.
What about the music, you may ask?
For now, friends and fiends, our lips are sealed like mean little clams on a poor cod's tail.
But rest assured, we shall return with aces up our sleeves.
Love,
SOL"