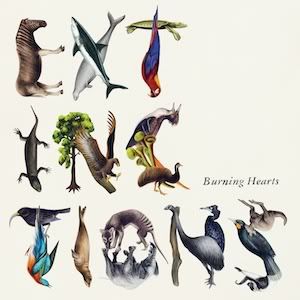 "Their second full-length album, "Extinctions", will be released in February 21st, 2012. If the debut was a collection of early songs that were not intended to end up on an album, "Extinctions" was written as a consequence of many tragic stories that touched the band.
Most of the songs are dedicated to persons or creatures that no longer exist
.
Finnish indie pop stalwarts Jessika Rapo (vocalist for Le Futur Pompiste) and Henry Ojala (ex-drummer for Cats on Fire) teamed up to form the shambly, synthy duo Burning Hearts in 2006. Burning Hearts' debut full-length, Aboa Sleeping, was released 2009.
After releasing two singles in 2010, "Night Animal" (featuring A peasant's dream Jori Hulkkonen remix) and a cover of Arthur Russell's "The Letter", the duo decamped to the Finnish countryside in Ostrobothnia and recorded a four song EP, "Into the Wilderness" released in June 2011." Thanks to Edvinsson Publicity for sharing this information with me.
Burning Hearts offer this free .mp3:
Burning Hearts - Burn Burn Burn