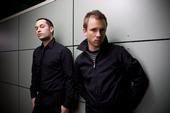 The Foxglove Hunt - Love My Way
(mp3 for previewing via zShare)
The Foxglove Hunt (Phoenix, Arizona) on
MySpace
New full length from Rob Withem, (former frontman of Fine China) and Ronnie Martin (Joy Electric). This is pop music. Like it or be crazy. "Stop Heartbeat" available from
cdbaby
and
Velvet Blue Music
and
A Different Drum
. Also on
iTunes
.
There's an army
On the dance floor
It's a fashion
With a gun my love
In a room
Without a door
A kiss is not enough
In
Love my way
It's a new road
I follow where
My mind goes
They'd put us
On a railroad
They'd dearly
Make us pay
For laughing
In their faces
And making it our way
There's emptiness
Behind their eyes
There's dust
In all their hearts
They just want to
Steal us all
And take us all apart
But not in
Love my way
It's a new road
I follow where
My mind goes
So swallow
All your tears my love
And put on
Your new face
You can never win or lose
If you don't
Run the race
And, speaking of Joy Electric:
"My Grandfather, the Cubist" OUT TODAY.
Buy it before next Tuesday!
We want to thank everybody for their ongoing support over the years and ask that you would continue that support by purchasing the new album THIS WEEK! Why this week? Because first week sales go a long way towards establishing a good base for a release like "...Cubist".
Find it at a store or order it here:
Smart Punk - http://www. smartpunk. com/product. php?item_id=27013
Best Buy - http://www. bestbuy. com/site/olspage. jsp?skuId=8821741&st=joy+electric&lp=1&type=product&cp=1&id=1853733
Amazon - http://www. amazon. com/gp/product/B0019KBEQO/ref=dm_ty_alb?ie=UTF8&qid=1211890609&sr=103-3
Video: The Foxglove Hunt "The Life Highrise (live)"