This week, I cover my own self by posting a mix I did in January 2007. This is a mix I created for the popular Faction 6 collection of podcasts created by DJ Narcolept.
My show was called "CTRL-ALT-F6". This is show 10 and was recorded in January 2007.
I think this was the happiest month of my life and the quality of the mix exemplifies this.
CTRL-ALT-F6 may see a return to Faction 6 soon, so I thought I'd post this mix as a sample of the music you can expect.
Mevio has it now
, as does
zshare
. I will add it to iTunes and Odeo soon.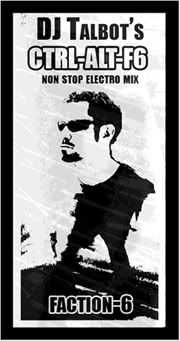 DJ Talbot's CTRL – ALT-F6 – January 5, 2007 on iTune's podcast Faction 6
19 tracks in playlist, average track length: 3:08
Po(p)(d)cast length: 59 minutes 50 seconds
1. Intro - CTRL-ALT-F6 Theme 2.0 (0:35)
2. Reactor Party (Luke Smith mpc mix) - Shitdisco (3:03)
3. Do The Whirlwind (Hot Chip Remix) - Architecture In Helsinki (3:56)
4. Kelly (Cut Copy Mix) - Van She (3:26)
5. Lil Red Rooster vs. The Robodog feat. ADL - Teddybears Sthlm (0:51)
6. Punkdrömmar - Ingenting (2:33)
7. Jealous (Jlab Mix) - Gene Loves Jezebel (3:17) * request
8. Once and Never Again – The Long Blondes (2:47)
9. My Radio (AM Mix) - Stars (5:00)
10. Losing Control - Bobby (3:45)
11. Appetite - Iris (3:20)
12. Fading - Silicone Soul (4:08)
13. Shake The Disease (Tiga Remix) - Depeche Mode (3:47)
14. Across The Meadow - Razorcuts (2:31)
15. Pristine Christine - Sea Urchins (4:08)
16. Velocity Girl - Primal Scream (1:13)