Sitting here, waiting for something to trigger a more up-beat mood...need to finish Like Sugar Popcast 28. It was due out 5 days ago.
Getting into the sounds of Dag for Dag...
Drowned In Sound writes
: "Dag for Dag combine early-Cure, Violent Femmes, Cramps, and (perhaps) early Low (an inevitable effect of forlorn female vocals and minimal instrumentation)".
I thought I was exploring some Swedish stuff, but these two are actually newly signed to Saddle Creek and come from America! They wandered about, it seems, and ended up close to where I nearly landed.
Somehow, Bjork's "I Play Dead" seemed the perfect follow-up track and it's now making me dance dramatically.
I have 2 sets of friends (married couples that have never met) visiting Las Vegas this weekend. Coincidence. I hope couple 2 enjoy the Leonard Cohen concert. Utah is the farthest I have traveled to see a band (Synth Con. I had to see Wave In Head, Somegirl, Provision, etc)
Saw a nice announcement at Stereogum. I read that Magnetic Fields have released the cover art and track-list for the upcomimg "Realism" album.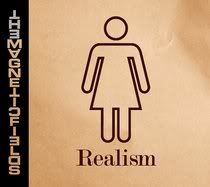 (Suede "Stay Together" now playing)
Tried to get a new Tahiti 80 free(?) mp3 this week, but it ended up being a preview. That "
A Love From Outerspace
" track is really timeless for me.