A.M. Vibe
June, 28 2008 at the Casbah
San Diego, California, USA
Cost : 5 bucks
with : reeve oliver, the blackout party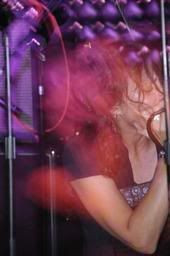 A.M. Vibe played with Venus Hum and Sing Sing (feat. Emma of Lush) some years ago and I was enthralled. Lisa's voice will melt your heart. She's been singing
in
her guitar for years Check out "Superstar" on Like Sugar Popcast 1. Their sound has been described as a combining the post-punk aggression of Nirvana and the fuzz of Stooges with the melodies of that like the Carpenters and the Pixies. Using their sometimes noisy, sometimes nice approach they deliver simple, irresistible and intelligent songs.
Buy the CD "Capricorno"at
cdbaby
I have had mine since release and it never leaves my personal play-list!