Time. It is a theme that is "always on my mind", my music, my art and, oddly, my clock. Since it's been 19 years since I escaped high school, I am thinking about just what the Hell I have done in that time.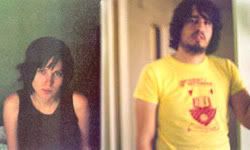 A high school friend, who I was recently in contact with (thanks to facebook), formed a band and they are or were called "Awestruck Dumbfounded". The only recording is on
SHMAT05 - A Map of the Woods - Shmat Compilation CD.
You can hear their wonderful popsong
Run Of The Mill Boy
there. My point? After all these years, one of the only people that was into "my" music turned out to like the same pop-sound some 15 years later. We both were huge Cure fans, Smiths fans, Depeche Mode...Duran Duran... Love and Rockets, Ministry and especially Skinny Puppy fans. Oh, and I can't forget The Bolshoi, Siouxsie, Nitzer Ebb, etc. The gentle pop sounds that we create now are far removed from these acts.
Thank-you, Alex for the mention on your blog! I hope my readers will check out:
Alex Loves You & Your Silly Pop Songs
. I know I get a lot of info on who to listen to from her blog!