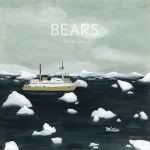 I tried to post this as close to eleven a.m. as possible. It's a perfect indie pop track that uplifts on this gloomy (the weather, I should mention) holiday (Martin Luther King Day, here in America).
It's track 1 from the upcoming album, Greater Lakes, to be released on February 14, 2012 via Misra Records. Available on clear vinyl LP, CD and digitally. Check out Bears at
www.bearspop.com
.
Eleven a.m. by Bears
Tracks:
1. Eleven a.m.
2. You're Going
3. From Good to Bad
4. More Left Out
5. Don't Wait
6. The City Still
7. I Don't Have You on My Mind
8. Perfect Girl
9. Wash My Hands
10. I Can't Make Things Right
11. Until the Very End