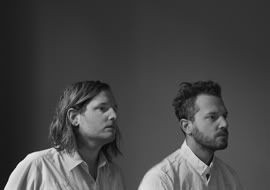 I was going to save this for tomorrow, but I loved the song after one play... so I must post this now. Here's the blurb from Labrador Records: "We're very proud to announce that Det Vackra Livet - the best new band we've heard in ages - is now on Labrador! Yes, it's in Swedish, but don't let that scare you...
The duo consists of brothers Philip and Henrik Ekström who you might recognise from the band The Mary Onettes. Inspired by their grandmothers memoires and Swedish/Finnish poet Claes Andersson singer Philip wrote fifteen songs in a two months-creative outburst in the fall of 2010. The first single "Viljan" is out on iTunes now - you can of course
download it for free from us
. Enjoy!"