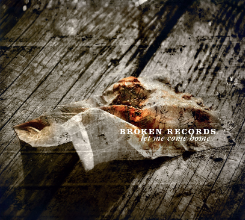 Let Me Come Home, expected in January, is the band's second album - the follow-up to 2009's Until The Earth Begins To Part. NME reviewed it this week and said "It is an elegant and, quite frankly, utterly beautiful record. 8/10"
4AD's press release says:
"Let Me Come Home started out as a series of sketches and song fragments in frontman Jamie Sutherland's kitchen, later taking form in demo sessions at an old distillery grain store in the Scottish Highlands. Recorded and produced by Tony Doogan (Mogwai, Delgados, Belle & Sebastian) at his Studio in Glasgow with artwork conceived by Vaughan Oliver at V23, Let Me Come Home will be released on CD, LP and digital formats.
Speaking about the inspiration behind their second album, Jamie Sutherland says:
"An idea started to form about the direction of the new record based on several films and albums that I became gradually obsessed with at that time. Watching the widescreen emptiness of films Badlands, Rumble Fish and East Of Eden, as well as records such as Bruce Springsteen's Nebraska, Nick Cave's Murder Ballads, Calexico's Feast Of Wire, and REM's early back catalogue all became a strong influence on the direction of the new songs. It was also during this time that the lyrical theme of the record started to take shape, thinking about what was going on around me in the form of fears and concerns over making relationships work, and a need for security."
Broken Records formed in Edinburgh at the end of 2006 and were immediately tipped for greatness by the UK press – a series of three independently released singles released in 2008 led NME to call them "an incredible proposition – set to go stellar as soon as they decide on a lucky label to sign to". They originally came together when Jamie had a plan to set up a small independent label and collective. They never quite got around to becoming a label, so Broken Records became the band name instead!"
"We're trying to do something different. People forget that music doesn't have to be just bass, guitar and drums. It can be just as loud and exciting with glockenspiel and trumpet" – Broken Records
TRACKLISTING:
1.
A Leaving Song
<<<<<< free .mp3
2. Modern Worksong
3. Dia dos Namarados!
4. The Motorcycle Boy Reigns
5. A Darkness Rises Up
6. Ailene
7. I Used To Dream
8. You Know You're Not Dead
9. The Cracks In The Wall
10. Home
BROKEN RECORDS is Jamie Sutherland (vocals/guitar), Ian Turnbull (guitar), David Smith (piano/trumpet), Andrew Keeney (drums), Rory Sutherland (violin), Craig Ross (bass)