I lined up 12 tracks for my friend in hospital (seems like I should say "in the hospital"). The little mix is for her to listen to while she recovers. I tried to use really new material, so it's fresh and she won't feel like she's missing out.
The 40 minute Get Well Mix is
on z-share here
. Over 250 views of the audio and that's with no description. I did
twitter
it and of course it's on Facebook.
As I write, I've got
Sally Seltmann streaming from MySpace
. I read about her in a
newsletter
from the Arts and Crafts label. Her music and voice is uplifting, so give it listen!
Speaking of Arts and Crafts, my favorite artist on that label, Stars, has a new single out. I downloaded "Fixed" from the upcoming album "The Five Ghosts" for free by offering my e-mail address. *can't find the link right now / will add it soon*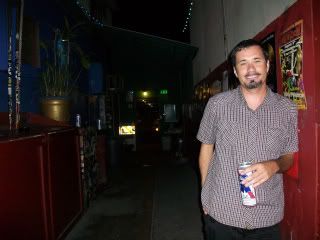 That's me at The Casbah in July 2009 waiting to watch Trashcan Sinatras...and the good news is they are coming back to The States! The band is going on tour in June, playing 11 shows. Most shows have recently gone on sale, the others should be on sale shortly:
June 1 - San francisco, ca - slim's (on sale 4/4)
June 3 - San juan capistrano, ca - the coach house (on sale 4/1)
June 4 - West hollywood, ca - key club (on sale 3/29)
June 6 - Chicago, il - schuba's (on sale tba)
June 7 - Milwaukee, wi - shank hall (on sale 4/9)
June 8 - Detroit, mi - magic stick (on sale tba)
June 10 - Boston, ma - tt the bear's (on sale 3/27)
June 11 - New york, ny - bowery ballroom (on sale 4/9)
June 12 - Hoboken, nj - maxwell's (on sale 3/31)
June 13 - Philadelphia, pa - world cafe live (on sale 4/9)
June 14 - Washington, d.c. - rock & roll hotel (on sale 4/9)
No San Diego show, I'm sad to say. San Juan Capistrano is 1 hour away. My parents live there, so I may have to make a trip of it.