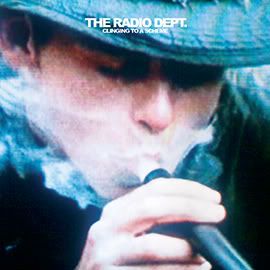 Labrador Records says "The long wait is finally over! The Radio Dept's "Clining to a scheme" is without doubt this year's most eagerly anticipated Swedish indie pop album. It's been four long years, but a simple press on Play and you'll know it's been worth every second.
"Clinging to a scheme" combines the best components from their previous albums "Lesser matters" and "Pet grief" with soul guitars, P-funk, cut/paste-beats and 70's futuristic orchestra. Breathtaking!
15 Euros including freight anywhere in the world
."
Track listing
1. Domestic Scene
2. Heaven's on fire (
download free .mp3
)
3. This Time Around
4. Never Follow Suit
5. A Token Of Gratitude
6. The Video Dept.
7. Memory Loss
8. David
9. Four Months In The Shade
10. You Stopped Making Sense