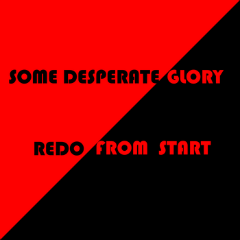 Once in a while, I get an outstanding synthpop submission to share. I felt this one was a true stand-out. Lyrics that sound personal, a mid-tempo beat throughout, and that smooth voice. This polished effort is worth your time, trust me.
Here's just one example. Find more on the Some Desperate Glory
SoundCloud page
or download the whole album "Redo From Start" for free over at
Bandcamp
.
The Only Way Out is Through by somedesperateglory