Vitalic (the alter ego of French programmer/multi-instrumentalist Pascal Arbez) is offering a
free mp3 ringtone here
. The new album "Flashmob" is coming out on September 28th.
I'm listening to Miss Kitten and The Hacker's "Two" CD right now. The third track really stands out. It reminds me of The Dust of Basement. All it needs is a growling male vocal accompanying the chorus.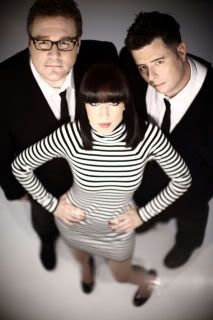 I have mentioned them before, and now we have the release of new material from The Postmarks. As far as I can tell, this mp3 is free to share, so here's the link to "
Lucky Charm
". I just saw Andy Chase (of Ivy) play live in his other band, Brookville, with the Trashcan Sinatras. Chase has taste.
Arghh...Chrome just locked-up as I was writing this. Back to Firefox.
Download a free / legal mp3 from Color Theory "I Stand By My Mistakes"
here
. Doing so actually helps the artist (Microsoft has made the song available for free – no sign up required. Not only that, but they're paying Brain Hazard of Color Theory 50¢ for each unique download) and beyond that, it's my favorite song on the
new album
! I love that Brian's wife Michelle sings with him on this beautiful track.
The excellent blog Noisebox has an entry on one of my favorite early 90's acts "Ultra Vivid Scene".
Read it here
and be sure to check into this act.
Way
ahead of their time. The music stands up even today.