I am really into this track by Champagne Riot, titled "Scandanavian Warfare." The artist is on Shelflife Records, based in Portland, Oregon.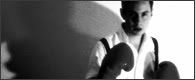 Here's the what the press release says:
"You needn't be out of touch with contemporary music or a nostalgic remnant of some other, long-past era to suspect that pop has, by and large, lost its sense of romance. Not only in terms of its willingness to lyrically explore the lexicon of love without the escape clause of postmodern irony, but the romance of unashamedly grand and eccentric gestures – the inherent romance of outsiders seeking to gently subvert the pop song, reconstructing it as something familiar yet foreign, classicist yet newfangled. Think of the Human League's Dare!, ostensibly a collection of love songs made to sound like science fiction; or New Order's plainspoken anti-poetry couched in synthetic symphonies that were the very antithesis of the everyday.
It is this largely abandoned idea of the velvet melody in the robotic glove to which Champagne Riot aspires. And with its debut EP, Paris and I, you hear it realized."
read more here
.
Don't miss out on the free mp3s to be collected via the Shelflife Blog:
http://blog.shelflife.com/
This track can be downloaded from Shelflife
here
.
I'm thinking this one will make it to PopCast 20....gonna cross-fade it with Lola Dutronic's "My Radio."