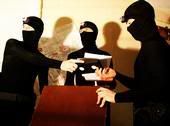 International Espionage! will play Chasers (3615 El Cajon Blvd, San Diego, CA USA) on May 20th, 9:00 p.m. For fans of DEVO, The Cars, B-52's, Servotron, Tubeway Army, XTC, Ramones, The Rentals, The Cure, Causeyway, Buzzcocks, The Clash.
International Espionage
! formed Mid 2005 in Minneapolis, creating spy-themed songs and theatrics. They have been compared musically to DEVO and the Clash. The band is comprised of Agent Number 6 (formerly Tim Crimson of Manplanet) on guitar and vocals, Agent Sureshot on bass and vocals, and Agent X-9 (Mark Mallman's tour drummer) on drums, with synth & drum tracks to add depth to their live show.
International Espionage! self-released their first E.P. in 2007 and have recorded six songs for their next E.P. due out this summer. International Espionage! is also nearing completion of a third music video with director Ryan Schaddelee.
Band Website:
international-espionage.com
MySpace URL:
http://www.myspace.com/espionagempls