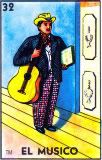 "Viernes" is a new series of alternative electronic music mixes for your Friday night ritual. Focusing on the deserving tracks I am unable to feature on my regular Like Sugar podcast. Expect Brit-pop, synthpop, electro and 80's + 90's gems. 40 to 50 minutes and should be out on Fridays, so sorry for the late post. Facebook and Twitter saw prompt posts, I neglected my blog due to the overwhelming urge to dance.
So,
listen via stream or download here
(zshare).
I have had this project on the back burner for a long time. My original intent was to have the talking bits en Espanol and to feature a few Spanish-speaking acts as well. I know there is a huge following for acts like Peter Murphy, Clan Of Xymox, Depeche Mode, The Cure, and so on in Central and South America. I don't want my blog and mixes to be overly Euro-centric.