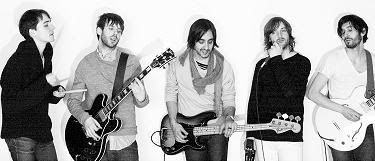 Here's another excellent band that just shines among imitators. A group can just "sound like x band from x year in the x decade". Then there are the bands that assemble a more distinctive, identifiable mood.
That's why I am diggin' Soft. They update that early 90's sound and you get the feel of
new
with the satisfaction of
nostalgia
. Gotta say, they remind me of The Pernice Brothers, and that, for me, is a f*cking great band to be compared to.
Dogs by SoftBand
Soft "Dogs" is out now. Produced by Chris Coady (Beach House, Grizzly Bear, TV on The Radio, Blonde Redhead). Mixed by Rick Parker (Black Rebel Motorcycle Club).
Soft on iTunes
Soft on Facebook
Soft on Twitter